Holistic ESG lifecycle management from strategy to managing risk.​
Enhance your ESG initiatives with certainty by leveraging EmpoweredESG™, the ultimate performance and risk management solution.
EmpoweredESG™ is a product of the creators of Connected Risk®, an award-winning, all-in-one governance, risk, and compliance software, and it is built on the solid foundation of the EmpoweredNEXT™ platform. As a cutting-edge, no-code platform, EmpoweredESG™ offers unparalleled comprehensive management of your ESG risk and performance.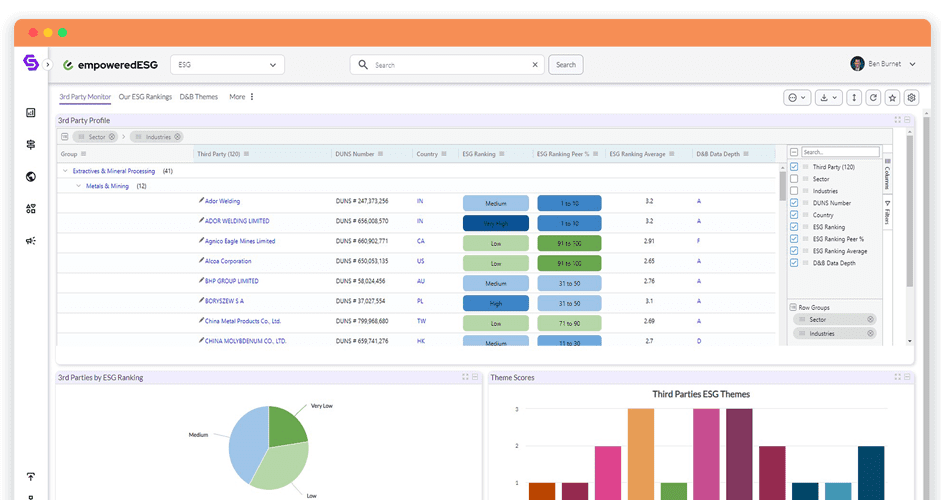 Explore
the ESG lifecycle with EmpoweredESG™'s integrated solutions
Click on any of the ESG lifecycle solutions below to explore how your team can benefit from an implementation of the EmpoweredESG™ solution.
ESG Risk Management
Take an objectives-centric approach to ESG risk management by assessing your materiality, identify risks, and monitor your ESG strategies for emerging risk.
Objectives & Strategy
EmpoweredESG™ starts with an objective-centric model which allows your team to track OKRs to ensure ESG goals are attained.
ESG Regulatory Change 
Simplify your ESG regulatory change management by aligning your regulatory and standards obligations with your ESG objectives.
Framework Alignment
Integrate and cross reference all of your ESG disclosure requirements into a common set of obligations. Map your ESG objectives and metrics across multiple frameworks such as TCFD, GRESB, GRI, SASB, and more.
ESG Third-Party and Supply Chain Management
Align your third-party risk management with your ESG framework and objectives to ensure compliance with emerging obligations for third-party governance such as the German Supply Chain Due Diligence Act.
Give your organisation a clear view of its ESG impact and responsibilities
With the ever-changing landscape of ESG frameworks and emerging regulations, a rigid ESG approach will soon fall short of your changing regulatory obligations. A clear, auditable view of your organisation's ESG aspirations, activities and risk management is required to inform disclosures, regulatory compliance and stakeholder reporting.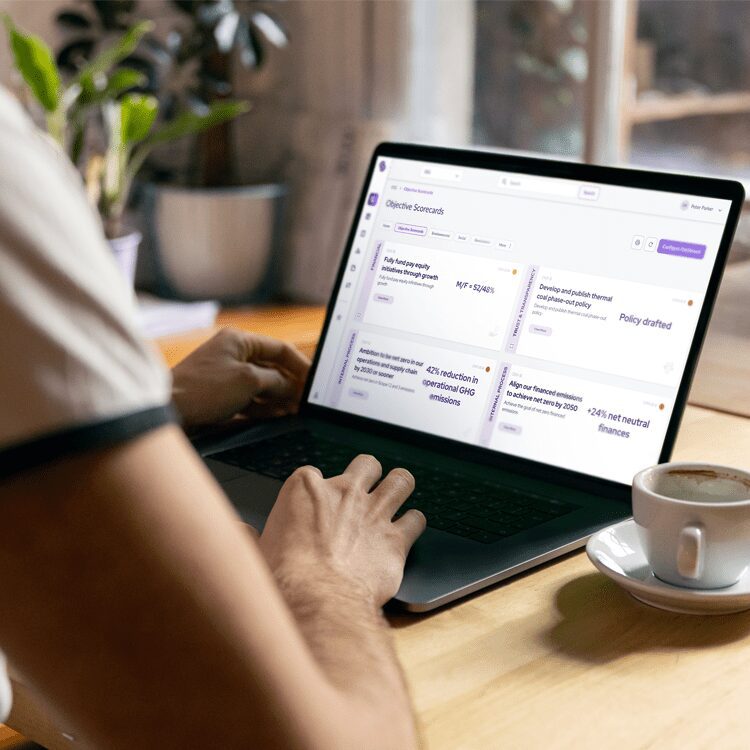 Take an objectives centric approach with scorecards that measure your results in real-time
EmpoweredESG™ establishes your ESG vision through objectives directly mapped to framework disclosures, regulatory obligations, and internal policies, providing the flexibility to ensure full regulatory coverage, auditable evidence for informed ESG reporting and the ability to evolve with the maturing landscape.
EmpoweredESG™ is mapped to common ESG frameworks
We use metrics and targets defined for achieving your ESG strategic objectives, directly mapped to and informed by ESG Framework disclosures, regulatory obligations and horizon scanning and internal policies. OKRs provide a complete view of all downstream initiatives, indicators, business impacts, external parties, risks and opportunities, scenario analysis and GHG emissions required to inform ESG reporting and monitor OKR achievement.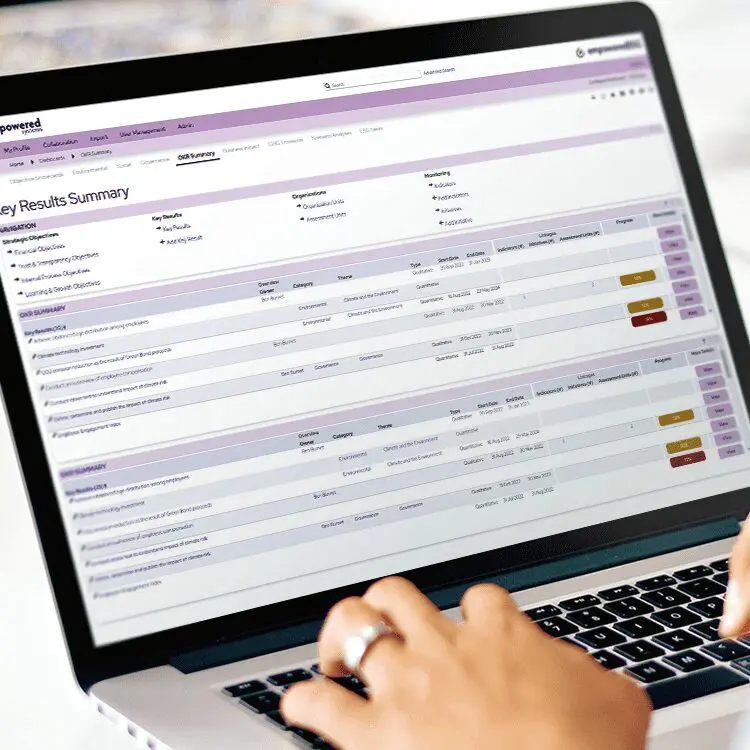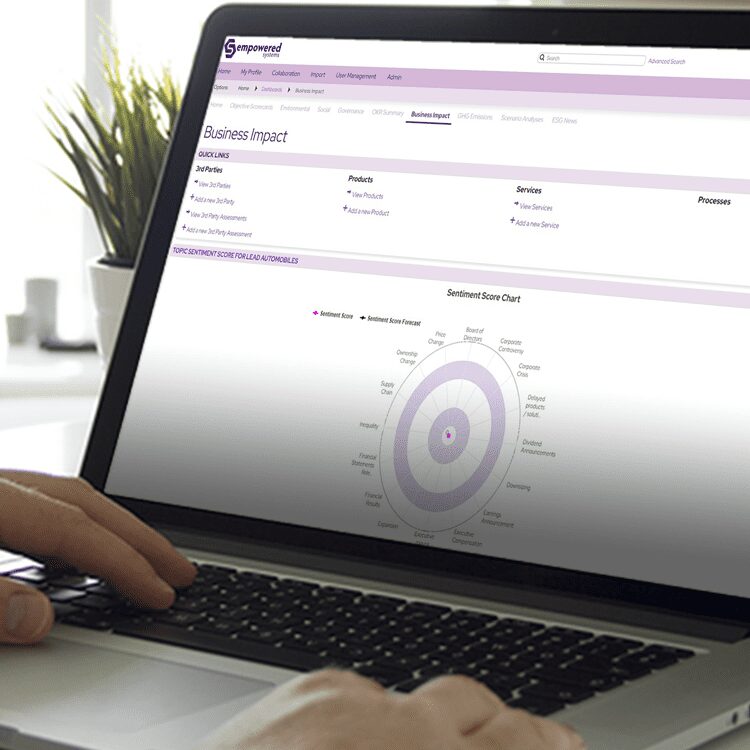 Get a full picture of your ESG impact when viewing and assessing all elements of your business
Understand the impact of every facet of your organisation on achieving your ESG objectives with EmpoweredESG™  business impact libraries. Define your organisation with libraries of your products, services, processes, policies, external parties, etc. to better identify your OKR risks and opportunities, scenario analysis and GHG emissions assessments. 
Complete visibility that allows for clear understanding and effective reporting
EmpoweredESG™ provides full risk management capabilities to assess, mitigate and treat risks, informed by a view of the related OKRs and business impacts. Scenarios are created and mapped to the OKRs to enable clear visibility of their effects on the business and ESG reporting requirements.
EmpoweredESG™  manages GHG emissions assessments with visibility of the parts of the business contributing to the GHG emissions including 3rd parties and their reported emissions.
Advance
with confidence
using EmpoweredESG™
EmpoweredESG™ is the holistic approach to integrated environmental, social and governance management. Uncover limitless possibilities with our expandable no code solution that provides unparalleled customization built upon a mature ESG framework.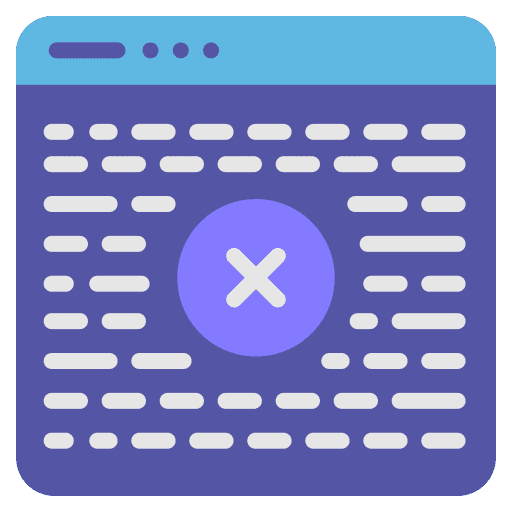 Deliver customizable solutions designed to your team's specifications, every time.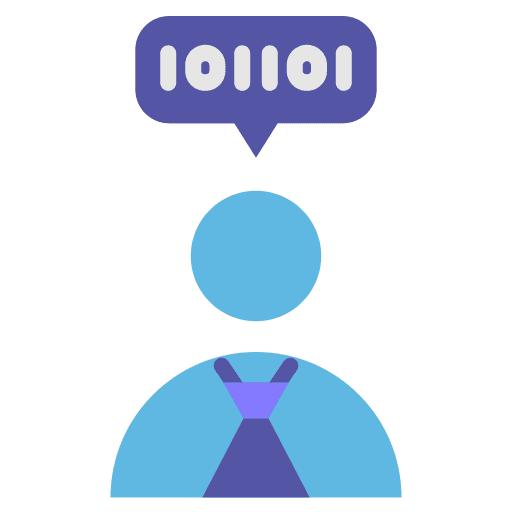 Enable personalized user permissions and views designed for your team.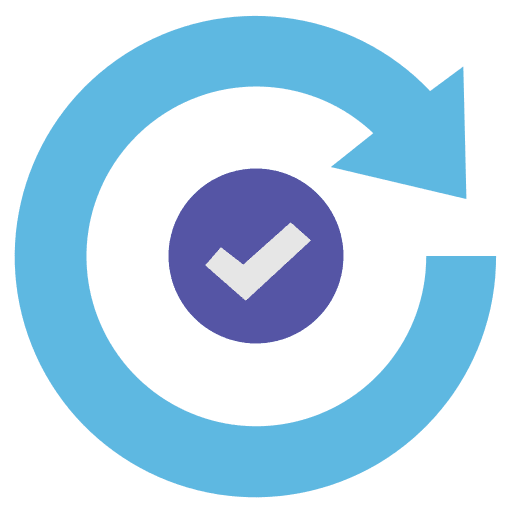 Experience 8 week sprint deliveries on our out-of-the-box solutions.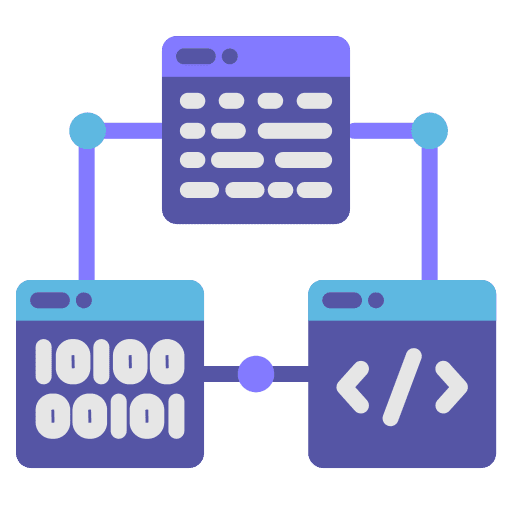 Create a single source of truth with integrated data–internal and external.
Struggling to identify your ESG team's needs?
Talk to one of our experts
Fill out the form to the right to be connected to one of our Solutions Experts that can assist you with standing up a proof of concept or even working within your parameters to get a demo started for your group today.
Learn more about our EmpoweredESG™ solution and how it can manage the entire ESG lifecycle within your team.
Looking to submit an RFP for your project?
Click the button below to submit a request for proposal (RFP) for your ESG project. We're happy to take all RFPs, no matter the size, into consideration.
"*" indicates required fields
Learn more about ESG from Empowered Systems®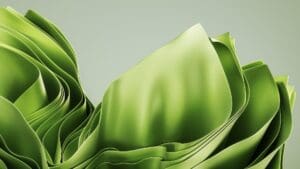 ESG
In the dynamic world of risk management and compliance, the significance of Environmental, Social, and Governance (ESG) alongside business continuity is becoming increasingly prominent. Traditionally,