COMPLIANCE MANAGEMENT FOR CONNECTED RISK®
Compliance management organises data and makes it available to all stakeholders for more efficient and effective management of compliance programs and processes
With an informed view of compliance risk, it facilitates better decision-making, allowing organisations to practice proactive compliance and stay ahead of the regulatory curve.
In an era of change, it is
essential
to have complete confidence that your employees, products, and business processes are in line with laws, regulations, and company guidelines and that all potential compliance and integrity risks within an organization are identified.
The acceleration of innovative technology, more data availability, and changing business models and value chains are transforming the ways you service your customers, interact with third parties, and operate internally. Compliance must keep up with this dynamic environment, including the evolving compliance landscape. With Connected Risk®'s Compliance Management solution, you're able to keep up with the differing needs of the ever-changing compliance landscape and manage your organisation's compliance practice with ease.
Empower
your compliance management practices with features available right out of the box
Framework
Monitoring
Attestations
Compliance Reviews
Superior Reporting
Framework
Define the control environment to build a central hierarchy for mapping and reporting. Apply industry frameworks to help structure content, identify gaps, and provide an external lens for reporting and disclosure. Codify all controls using a flexible set of fields and map to the organization to drive reporting and access permissions. Assign ownership and drive notifications to the appropriate stakeholder inbox. Track all changes via an integrated audit trail.
Monitoring
Attestations
Compliance Reviews
Superior Reporting
Compliance Management offers you the ability to
self configure
out-of-the-box workflows, dashboards, and reporting capabilities and tailor it to your own applications
What's more, your compliance function is part of a broader risk ecosystem, encompassing neighbouring risk and compliance functions, and you will have access to several pools of relevant risk data. Often this will not necessarily abide by a common standard and may reside on multiple legacy solutions that are not integrated.
The Connected Risk® platform, which underpins your solution, can draw upon this data using advanced data modelling and mapping capabilities that also facilitates a greater degree of standardization.
The solution maximizes the value these capabilities bring. We offer flexible assessment matrices that draw on data from any risk and compliance functions you choose to connect with. Based on the intelligence these connections provide, you can apply mid-cycle directional changes in your assessment plan to ensure it remains focused on what matters most at any given time.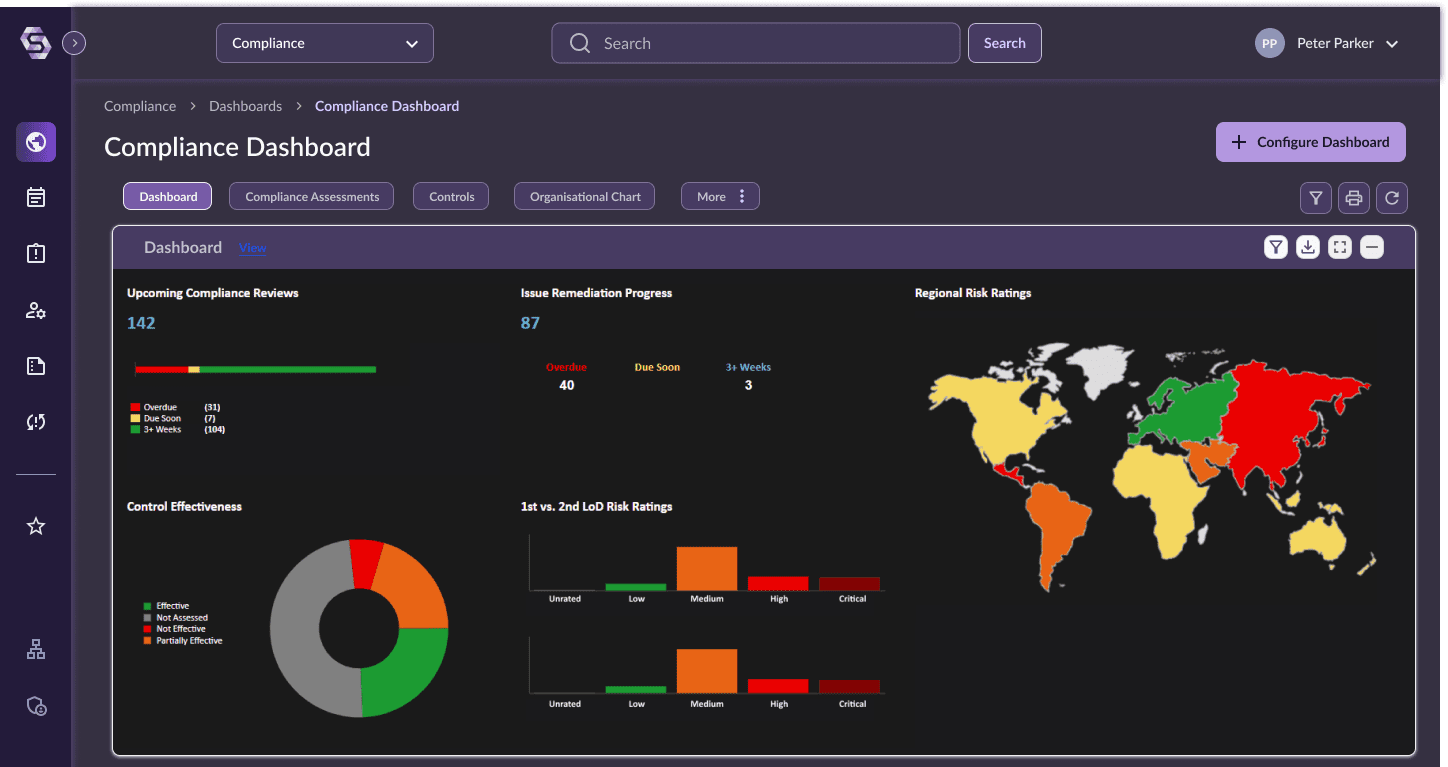 Connected Risk® provides you with a single source of truth that provides infinite linkage capabilities, and in turn, increases data quality and knowledge sharing
Connected Risk® utilises enhanced drag-and-drop and powerful data mapping capabilities for creating additional taxonomies and linkages into neighbouring risk areas.
The Compliance Management module is highly configurable and can help your teams.
Start a free trial of Connected Risk®'s compliance management module and see how your organisation can advance with confidence
Start a free trial of
Connected Risk®
Fill out the form below to schedule a live, personalised demonstration of any of our solutions listed below.
"*" indicates required fields
Not quite ready for a trial?
Download a copy of our Compliance Management datasheet and see how our compliance management solutions can work for your organisation.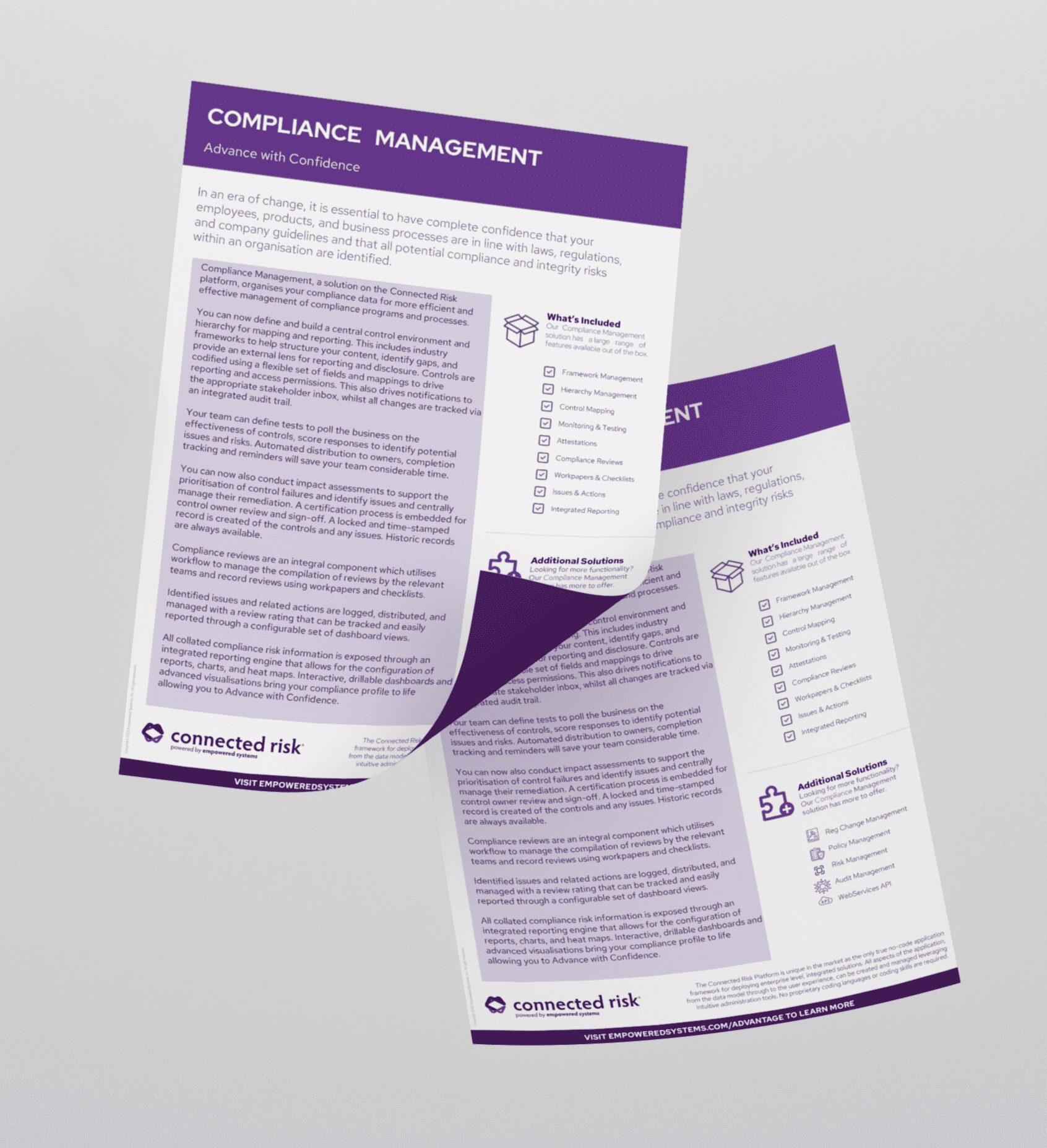 Share this page with your model risk practice
Expand
and integrate your solution with
"Powerful
Platform For Compliance With Dynamic Regulatory Environment"
"The product is a powerful platform for regulated firms in the financial industry to comply with the ever-changing regulatory environment. The software helps my organization navigate rules and regulations, internal processes, and regulatory reporting requirements."
Senior Associate, Finance Organisation with an annual return of $1-3BN USD