Enabling compliance teams to thrive.
Compliance Management on Connected Risk® is a robust solution designed to streamline data organization and accessibility for all stakeholders. Its primary objective is to enhance the efficiency and effectiveness of compliance programs and processes within an organization. By providing a comprehensive understanding of compliance risk, this system empowers decision-makers to make well-informed choices. Consequently, organizations can proactively address compliance requirements and maintain a competitive edge by staying ahead of evolving regulatory standards.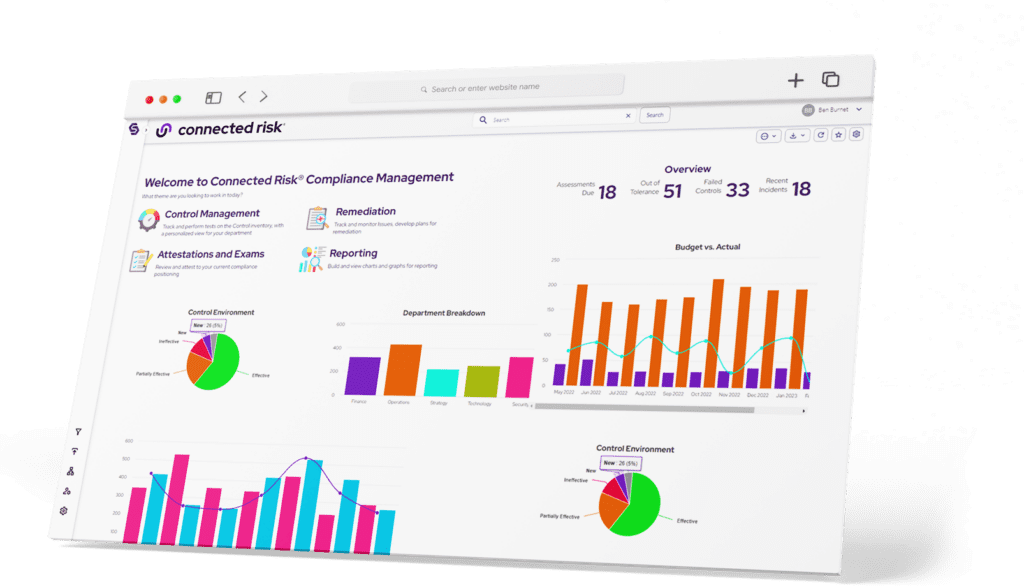 Amidst a dynamic era of constant change, ensuring unwavering
confidence
in your business's alignment with regulations and company guidelines is of utmost importance.
The rapid advancement of innovative technology, increased data accessibility, and evolving business models and value chains are revolutionizing customer service, interactions with third parties, and internal operations. To thrive in this dynamic environment, it is crucial for compliance practices to adapt and stay abreast of the evolving compliance landscape.
Connected Risk® presents an exceptional Compliance Management solution that enables you to effectively address the diverse requirements of this ever-changing compliance landscape. With our solution, managing your organization's compliance practice becomes effortless, empowering you to navigate the complexities of compliance with confidence.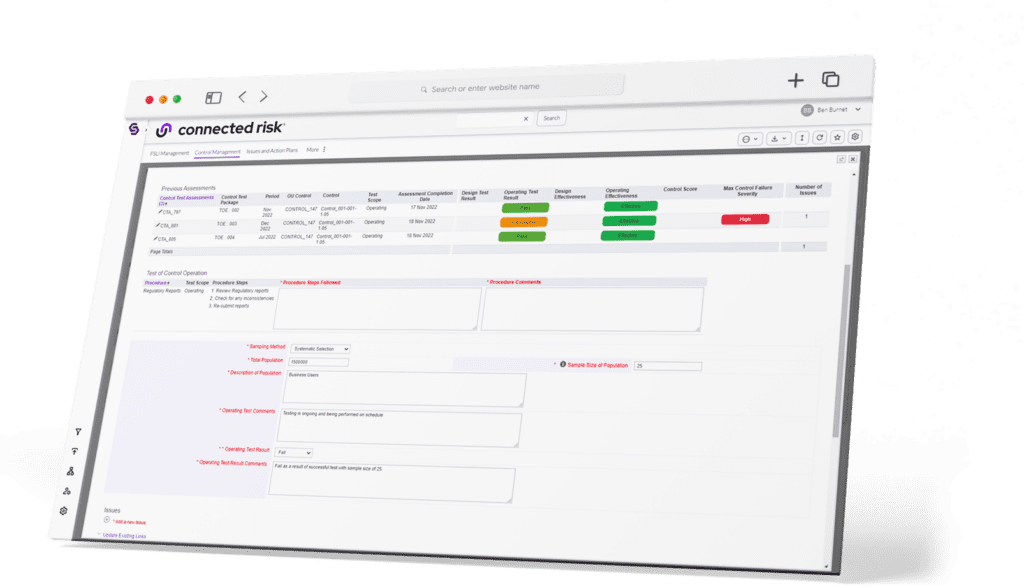 Compliance Management provides you with the flexibility to self-configure pre-built workflows, dashboards, and reporting capabilities, allowing you to tailor them to align seamlessly with your unique applications.
Furthermore, it is important to acknowledge that your compliance function operates within a broader risk ecosystem, which encompasses neighboring risk and compliance functions. As a result, you have access to multiple pools of relevant risk data. However, it is worth noting that this data may not always adhere to a common standard and could be distributed across various legacy solutions that lack integration.
The Connected Risk® platform, which serves as the foundation for your solution, leverages advanced data modeling and mapping capabilities to effectively harness this data. Moreover, it facilitates a higher level of standardization, ensuring consistency and reliability in your risk management processes.
Our solution maximizes the value derived from these capabilities. We provide flexible assessment matrices that can incorporate data from any risk and compliance functions you choose to connect with. By leveraging the insights generated through these connections, you can make mid-cycle adjustments to your assessment plan, ensuring it remains focused on the most critical areas at any given time. This adaptive approach enables you to prioritize and address the most pertinent risks effectively.
Enhance
your compliance management practices with readily available features that empower your operations from the moment you begin.
Framework

Create a strong control environment by setting up a centralized hierarchy for mapping and reporting that simplifies your compliance processes. Make use of industry frameworks to organize your content, identify any gaps, and gain an outside perspective for reporting and disclosure needs. Customize your controls using a flexible set of fields, making it easy to align with your organization's structure and enable smooth reporting and access permissions. Foster accountability by assigning ownership and sending notifications directly to the right stakeholders' inboxes. Keep a close eye on all changes with an integrated audit trail that maintains a detailed record of activity.
Monitoring & Accountability

Create tests to gather feedback from the business and evaluate the effectiveness of controls. Score the responses to identify any potential issues or risks that need attention. Automate the distribution of tests to the relevant owners, track their completion, send helpful reminders, and escalate overdue tests when necessary. Gain insight into the impact of control failures through impact assessments, which will aid in prioritizing remediation efforts. Additionally, centrally manage the identification and resolution of issues to streamline the remediation process.
Attestations
Embed a certification process that can be performed by one or more attestors to review and sign-off the current compliance position. Create a locked and time-stamped record of controls and issues reviewed; these historic records are available for reporting as needed and receive notifications, requests, and reminders, which are automatically triggered and sent to the relevant teams for review.
Compliance Reviews

Incorporate a user-friendly certification process that allows one or more attestors to thoroughly review and provide their official sign-off on the current compliance status. Generate secure and time-stamped records of controls and issues that have been reviewed, ensuring a reliable historical record that can be accessed for reporting purposes whenever necessary. Stay on top of important tasks with automatic notifications, requests, and reminders that are intelligently triggered and sent to the appropriate teams for their review.
Superior Reporting
Access all your consolidated compliance risk information effortlessly through our integrated reporting engine. Customize reports, charts, and heat maps to suit your preferences and needs. Our interactive and drillable dashboards, along with advanced visualizations, breathe life into your compliance profile. Best of all, these features are fully configurable by you, empowering you to tailor the experience to your liking.
Connected Risk® provides you with a single source of truth that provides infinite linkage capabilities, and in turn, increases data quality and knowledge sharing
Connected Risk® utilizes enhanced drag-and-drop and powerful data mapping capabilities for creating additional taxonomies and linkages into neighboring risk areas.
Our Compliance Management solution is highly configurable and can help your teams:
talk to a compliance expert.
Fill out the form to the right to be connected to one of our Solutions Experts that can assist you with standing up a proof of concept or even working within your parameters to get a demo started for your group today. 
Learn more about our Connected Risk® Compliance Management solution and how it can manage the entire GRC lifecycle within your organisation.
"*" indicates required fields
Learn more about compliance from Empowered Systems®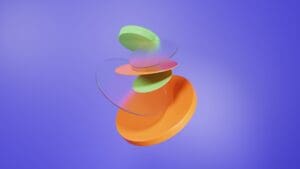 Compliance
In the ever-changing world of finance, compliance is not merely about adherence to rules; it's fundamentally about fostering trust and confidence among employees, investors, and
Expand
and integrate your solution with
"Powerful
Platform For Compliance With Dynamic Regulatory Environment"
"The product is a powerful platform for regulated firms in the financial industry to comply with the ever-changing regulatory environment. The software helps my organization navigate rules and regulations, internal processes, and regulatory reporting requirements."
Senior Associate, Finance Organization with an annual return of $1-3BN USD