Operational Risk Management
Mitigate operational risk. Empower success.
Embrace a new era of risk management excellence with Operational Risk Management on Connected Risk®, the revolutionary GRC lifecycle platform that enables a comprehensive approach to operational risk management.
Bid farewell to fragmented and disorganized methods and welcome a structured and accurate understanding of risk exposure across your organization. Through uniform risk assessment methodologies and multi-dimensional assessments, our software empowers you to establish a customized risk profile. Leverage the power of dynamic dashboards, heat maps, and reports to make smarter, informed decisions that drive success.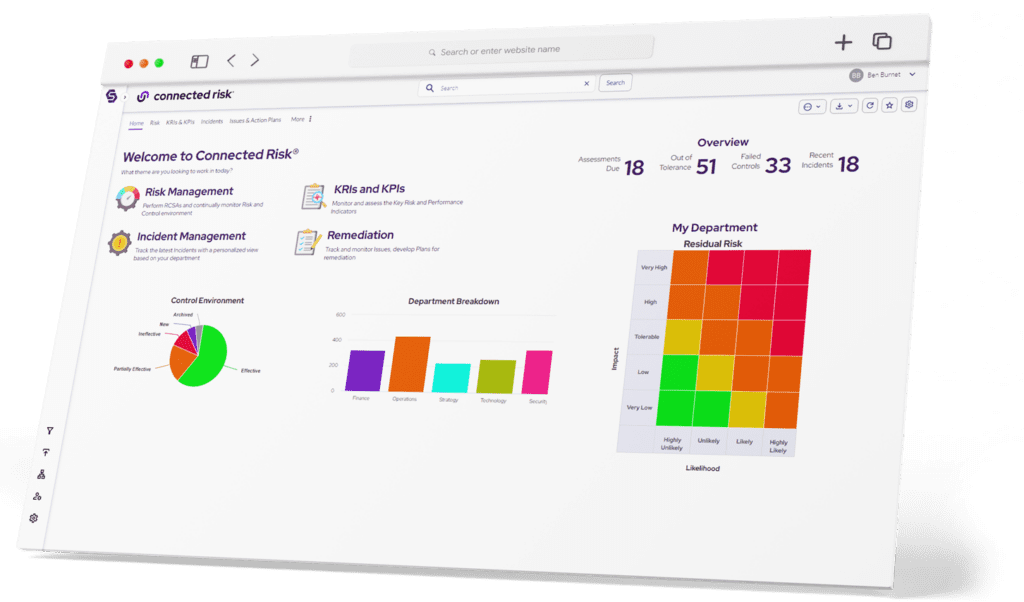 Transform
your operational risk management practices in the era of innovation, data, and changing business models.
How Connected Risk® Operational Risk Management (ORM) Benefits Your Risk Management Teams and Your Organization's Risk as a Whole
Elevate
your operational risk management strategies and tailor your risk thresholds with a suite of innovative features that optimize your workflows—all made possible through Connected Risk®
By harnessing the power of Operational Risk Management on Connected Risk®, businesses can revolutionize their risk management strategies. The platform empowers companies to define and monitor risk appetite seamlessly within their data structure, providing a comprehensive and nuanced understanding of potential risks. This facilitates better monitoring and adaptation to varying risk sensitivities across functions and processes. In the event of any risk tolerance breaches, the system automatically triggers alerts and generates reports, enabling swift and decisive action.
Moreover, the platform's exceptional data mapping capabilities enable businesses to craft bespoke risk management solutions that perfectly align with their unique methodology and principles. This tailored approach equips businesses with the tools they need to proactively address risks and uncertainties, empowering them to navigate the ever-changing landscape with confidence and resilience.
Our adaptive assessment engine employs dynamic building blocks, thoughtfully tailored to cater to the specific needs of your business. Leveraging powerful data mapping capabilities, our platform draws upon a diverse array of data sources to execute each assessment with precision and efficiency. Unlike rigid, one-size-fits-all solutions, Operational Risk Management puts the power in your hands, allowing you to mold your risk assessment solutions to exact specifications. Whether you prefer to customize our out-of-the-box solution or build your own tailored approach on our platform, the possibilities are limitless.
Indicators:
With Enterprise Risk Management, you can effortlessly create indicators for risks and controls, providing you with the following benefits:
Process updates in bulk
Real-time alerts for threshold breaches
Configurable regular review cycles
Incidents:
Our platform enables swift capture and assessment of incidents, while efficiently managing them from initial capture to closure. Additionally, it facilitates the recording of losses and recoveries, allowing comprehensive reporting across the entire incident lifecycle. With ongoing tracking and seamless integration into the assessment methodology, you can ensure that valuable information is continually fed into your risk management process.
Experience the full potential of our integrated risk management solution as our powerful reporting engine consolidates all risk information into a single, accessible hub. Intuitively configure reports, charts, and heat maps to gain valuable insights at a glance. Our interactive and drillable dashboards, along with captivating visualizations, breathe life into your risk profile, all fully customizable to suit your preferences.
Stay vigilant and proactive with our intelligent alerting system, ensuring you never overlook a critical risk event. Receive timely notifications the moment your risk tolerance level is breached, empowering you to take immediate action.
Take charge of your risk analysis and reporting like never before with our cutting-edge tool, providing you with unparalleled control and empowering you to make well-informed decisions confidently.
Operational Risk Management is a dynamic solution that grows alongside your business, adapting to your evolving risk profile and processes. The flexibility it offers allows effortless modifications at no extra cost, ensuring it aligns perfectly with your ever-changing needs.
Empowering your risk professionals, this solution enables them to transition from being risk-averse to embracing risk confidently. By effectively removing barriers, it instills the assurance needed to turn "no" into "yes," promoting a proactive risk-taking culture within your organization.
Connected Risk® takes reporting to new heights with its sophisticated integrated reporting feature, applicable to all solutions on the Connected Risk® platform. This comprehensive business intelligence reporting capability empowers your teams to create visually appealing and interactive reports directly on their Connected Risk® dashboards.
Here are some key benefits:
Centralized data designs and report management requirements.
Building data designs using Connected Risk elements.
Managing, publishing, and organizing reports to cater to specific user communities' needs.
Allowing users to reformat and filter reports to articulate specific insights and focus areas.
Automated extraction of reports to PowerPoint and other presentation formats.
Exporting charts to Excel, along with the underlying dataset, facilitating additional reporting options.
With Connected Risk®'s robust reporting capabilities, your organization gains greater visibility and understanding of risks, empowering informed decision-making and strategic planning.
Enhance your operational risk team's capabilities.
Fill out the form to the right and our dedicated Solutions Experts will be in touch promptly.
Whether you're looking to set up a proof of concept or schedule a demo tailored to your specific requirements, our team is ready to assist you. Discover how our Connected Risk® Operational Risk Management solution can seamlessly manage the entire GRC (Governance, Risk, and Compliance) lifecycle within your organization. Take the first step towards enhancing your risk management practices today.
"*" indicates required fields
Connected Risk® provides you with a single source of truth that provides infinite linkage capabilities, and in turn, increases data quality and knowledge sharing.
In the past, risk professionals have had to accept that a solution could only manage a subset of enterprise risk management (ERM), for example, operational risk management (ORM), credit risk management or market risk management. 
With Connected Risk® you receive advanced data mapping capabilities that enable multiple risk data streams to be combined with the solution to deliver a holistic view of risk, enabling your teams to:
Learn more about risk management from Empowered Systems®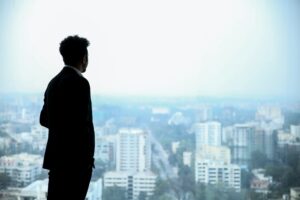 Connected Risk
Large organizations often face many challenges when it comes to managing risk. In today's fast-paced business environment, it is imperative that companies have an effective
Expand
and integrate your solution with
"Powerful
Platform For Compliance With Dynamic Regulatory Environment"
"The product is a powerful platform for regulated firms in the financial industry to comply with the ever-changing regulatory environment. The software helps my organization navigate rules and regulations, internal processes, and regulatory reporting requirements."
Senior Associate, Finance Organization with an annual return of $1-3BN USD
Frequently Asked Questions about Operational Risk Management
How does Connected Risk® Operational Risk Management software help manage risk at the organizational level?
Our innovative solution is the perfect fit for organizations seeking to gain a deeper understanding of their potential risks. Unlike other risk management platforms, our system is built on a foundation of comprehensive risk assessment methodologies and standards. This ensures that your organization is equipped with the tools needed to accurately assess even the most complex risks. Additionally, our software features a standard risk and control taxonomy, complete with many-to-many relationship mapping. This enables you to develop a model risk management plan that aligns with your organizational hierarchy. With our centralized library and ORM framework, you'll have the power to document and manage a wide array of enterprise risks. Thanks to our real-time insights, you can stay proactive in your risk management program using powerful analytics, advanced heat maps, reports, dashboards, and charts. This helps you and your board of directors make informed decisions that optimize business performance.
What reporting is available in Connected Risk® Operational Risk Management?
Have you ever wanted to have real-time access to information about risk management programs in your organization? With our ORM system, you can easily view risks by organization, product, process or risk category. Plus, with customized role-based landing pages and dashboards, you'll have easy access to all the information you need. Our advanced visualization tools provide a 360° view of your program with key metrics that allow you to gain insights on the effectiveness of your controls.
How does Connected Risk® ORM support the metrics measurement?
With Connected Risk® Operational Risk Management, you can easily measure and track key indicators for risks, controls, and performance, and set customized thresholds to identify potential threats before they become major issues. And with the added benefit of automated alerts and notifications, you'll never be caught off guard by a risk breach again.
Does Connected Risk® ORM support Risk & Control Self-Assessments (RCSA)?
The Connected Risk® ORM solution is packed with advanced capabilities to streamline risk assessment planning and scheduling. With easy-to-use interfaces, users can conduct top-down and bottom-up risk assessments with ease. But that's not all – our enterprise risk management system goes beyond the basics with the ability to define aggregating logic based on unique business needs. With both simple and weighted average methods, risk visibility has never been more accurate.