Third-Party Risk Management
Managing third-party risk with ease.
Ensure the Security of Your Business against Third-Party-Related Risks with Connected Risk®'s Third-Party Risk Management Solution. Our advanced software empowers you to efficiently manage and closely monitor your relationships with third-party service providers and IT suppliers, safeguarding your business performance from any potential disruptions.
Third-Party Risk Management by Connected Risk® equips you with a comprehensive suite of tools to proactively assess, mitigate, and control risks associated with your third-party vendors. By implementing a systematic approach, you can identify and prioritize potential vulnerabilities, taking proactive measures to prevent any adverse impact on your business operations.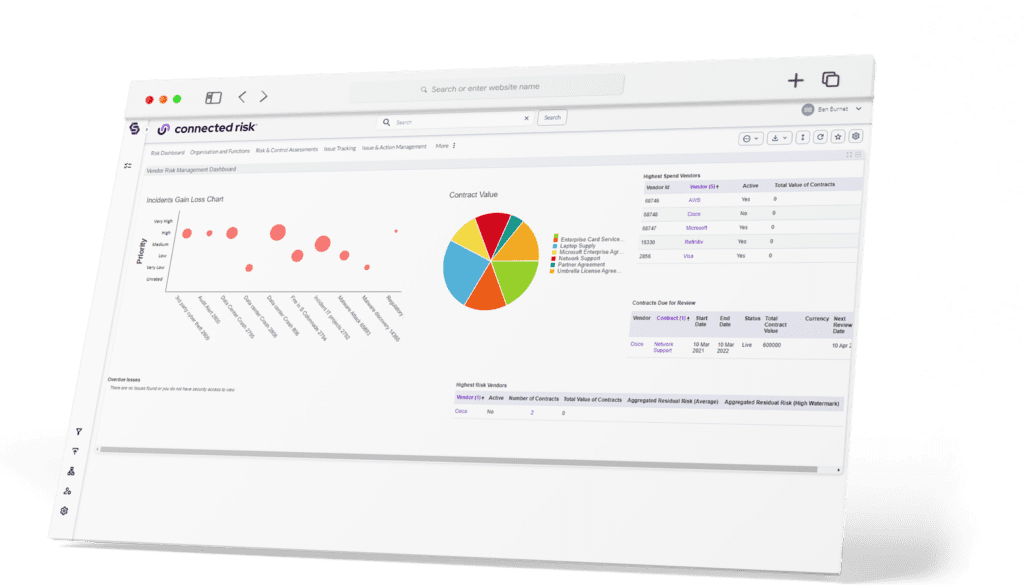 Trust Connected Risk® as
your reliable partner
in third-party risk management, helping you effectively handle risks not only with third-party vendors but also extending to fourth-party risks and beyond.
To maintain optimal business performance, it is crucial to ensure that the engagement with third-party suppliers does not have a detrimental impact. Connected Risk excels at managing potential risks associated with third-party engagements by identifying, evaluating, monitoring, and mitigating the relevant concerns. It actively notifies about emerging threats from third parties, including negative publicity, and establishes predefined tolerance levels, providing valuable risk exposure assessments. This prompts timely warnings and enables tracking of necessary actions to address identified risks effectively.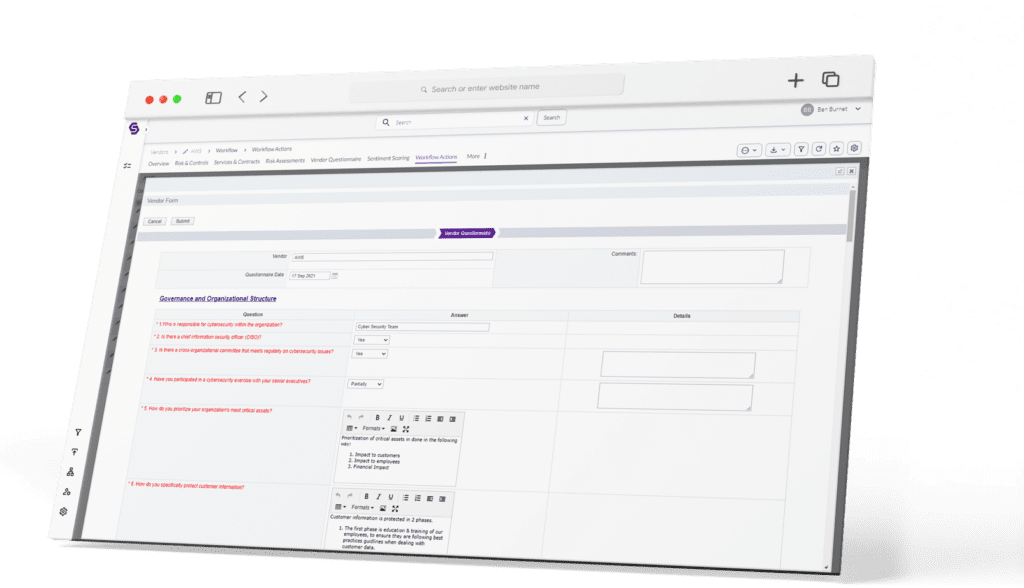 Secure your business with Third-Party Risk Management through risk questionnaireson Connected Risk®. Safeguard your operations by utilizing comprehensive risk assessments and efficient vendor management solutions offered by our platform.
Manage your third- and fourth-party risk with ease.
Talk to a third-party expert.
Fill out the form to the right to be connected to one of our Solutions Experts that can assist you with standing up a proof of concept or even working within your parameters to get a demo started for your group today. 
Learn more about our Connected Risk® Third-Party Risk Management solution and how it can manage the entire GRC lifecycle within your organization.
"*" indicates required fields
Learn more about Third-Party RIsk from Empowered Systems®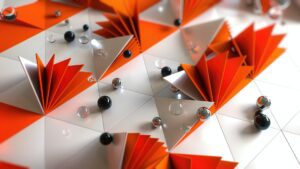 Compliance
In the realm of financial services, staying ahead of regulatory requirements and ensuring effective risk management has always been a top priority. One emerging trend
Expand
and integrate your solution with
"Powerful
Platform For Compliance With Dynamic Regulatory Environment"
"The product is a powerful platform for regulated firms in the financial industry to comply with the ever-changing regulatory environment. The software helps my organization navigate rules and regulations, internal processes, and regulatory reporting requirements."
Senior Associate, Finance Organization with an annual return of $1-3BN