Achieve resiliency with confidence.
Operational Resilience Management on Connected Risk® offers a comprehensive and robust solution for effectively handling operational risks and building resilience across an organization. It enables the efficient management of various risks, objectives, processes, and services, fostering a holistic approach to risk management. By implementing this solution, organizations gain enhanced agility in monitoring and managing resilience, ensuring they can meet the demands of today's dynamic and challenging business environment.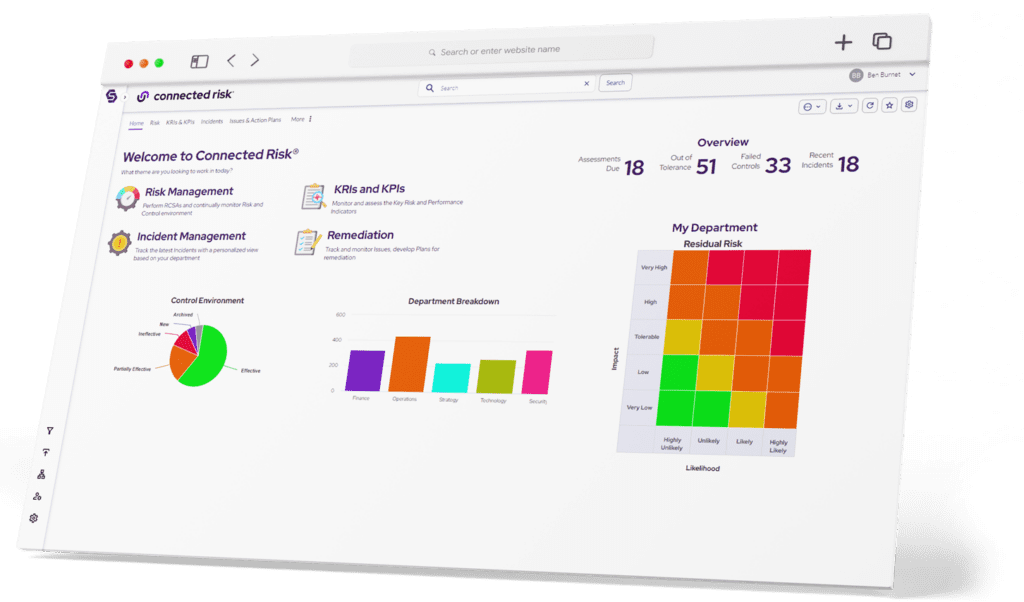 The
interconnectedness
of objectives, risks, resilience, and integrity require 360° contextual awareness of risk
In contemporary times, the landscape of business operations has evolved significantly from its once simplistic nature. Organizations of all sizes now face a multitude of complexities and challenges due to factors such as exponential growth, changing risks, evolving regulations, globalization, distributed operations, rapid competitive dynamics, advancing technology, and the overwhelming volume of business data.
The task of aligning business strategy, performance, uncertainty, complexity, and adaptability has become a formidable challenge for boards, executives, and management professionals at every level within a company. Navigating these intricate and dynamic elements is crucial to ensure the success and sustainability of businesses in today's fast-paced and ever-changing corporate environment.
Organizations need to see the intricate relationships of objectives, risks, obligations, processes, and controls across the organization's operations. It requires holistic visibility and intelligence of risk in the context of objectives, processes, and services. The complexity of business – combined with the intricacy and interconnectedness of risk and objectives – necessitates that the organization implement a strategic approach to business and operational resilience.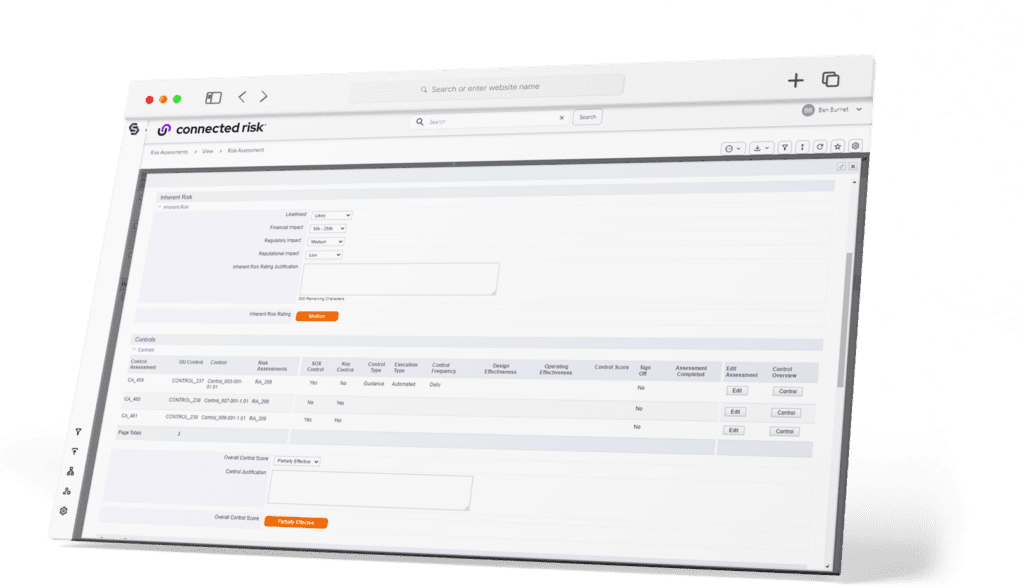 The Advantages of How Connected Risk® Operational Resilience Management (ORM) for Your Risk Management Teams and Overall Organizational Resiliency
Tailor
Your Organization's Resilience Strategies and Optimize Workflows with Connected Risk®
The solution offers a centralized and reliable source of information concerning business risks and resilience within the organization's operations. It provides a comprehensive 360° contextual view of risks and resilience in a business context. This integration allows for a singular, cohesive risk and resilience environment that effectively manages objectives and sustains resilience while dealing with various risks and regulatory requirements that the organization needs to address.
By defining objectives, processes, and services, they can be linked to a range of risks, regulations, other objectives, and controls. This linkage ensures that the organization can consistently achieve its objectives while addressing uncertainties and risks with integrity. The mapping and monitoring of risks, resilience, and objectives extend to every aspect, from entities, divisions, departments, processes, relationships, to assets. This involves utilizing best-practice resilience methodologies, scenario analysis, and drawing lessons from past risk events to accurately identify risks and assess resilience.
Furthermore, the solution allows for defining and monitoring multiple levels of impact tolerances for services. These impact tolerances can be monitored for both customer and prudential impacts on the firm, as well as the broader financial system.
In addition to its functionalities, the solution fosters collaboration in risk and resilience. It encourages engagement and collaboration across various risk disciplines, such as operational risk, business continuity management, IT, cyber/information security, and third-party management. By promoting collaboration, the organization can better address challenges and enhance its overall risk management and resilience capabilities.
By effectively conveying the concepts of risk and resilience within the framework of business strategy, objectives, risk appetite, and strategic initiatives, you empower the organization to make informed decisions and engage in risk-intelligent practices. This enables better-informed business choices and project decisions.
Utilizing analytics and dashboards, you can gain intelligent insights by triangulating information gathered from various business systems, processes, and services. This approach ensures that appropriate remediation actions are triggered when required, fostering a 360° contextual awareness of the business environment. It becomes crucial to understand and document the interdependencies among services, processes, assets, third-parties, products, channels, and risks to manage them effectively.
The solution revolutionizes the handling and evaluation of risks and business continuity plans, streamlining once labor-intensive tasks. It plays a crucial role in replacing the complex web of manual processes, documents, spreadsheets, and emails that were previously required to adapt to the demands of today's distributed, dynamic, and disrupted business landscape. By incorporating workflow and task management, including alerts and notifications, the solution effortlessly guides actions through the necessary processes to involve all stakeholders.
Operational Resilience Management empowers you to seamlessly communicate and engage with critical processes and services, reaching external stakeholders like regulators, partners, and customers with ease.
The Connected Risk® Operational Resilience solution offers a versatile approach to tackle the intricate demands of operational risk and resilience management in diverse and complex business settings. It can be employed to cater to specific resilience requirements within particular business processes and relationships. Some organizations initially focus on meeting the operational resilience needs of a specific division or business entity. However, they often discover that over time, the implementation naturally expands to encompass an enterprise-wide perspective of operational risk and resilience.
Streamline operational resilience in your organization.
Talk to a risk expert today.
Complete the form on the right, and our committed Solutions Experts will promptly reach out to you.
No matter if you want to establish a proof of concept or arrange a personalized demo that meets your unique needs, our team is fully prepared to support you. Experience the seamless management of the entire Governance, Risk, and Compliance (GRC) lifecycle within your organization with our Connected Risk® Operational Resilience Management solution. Take the initial stride towards elevating your risk management practices today.
"*" indicates required fields
Connected Risk® provides you with a single source of truth that provides infinite linkage capabilities, and in turn, increases data quality and knowledge sharing.
In the past, risk professionals have had to accept that a solution could only manage a subset of enterprise risk management (ERM), for example, operational risk management (ORM), credit risk management or market risk management. 
With Connected Risk® you receive advanced data mapping capabilities that enable multiple risk data streams to be combined with the solution to deliver a holistic view of risk, enabling your teams to:
Learn more about risk management from Empowered Systems®
ERM
The financial crisis of 2008-2009 provided an eye-opening experience for various industries, especially the insurance sector. One undeniable revelation was the sheer significance of Enterprise
Expand
and integrate your solution with
"Powerful
Platform For Compliance With Dynamic Regulatory Environment"
"The product is a powerful platform for regulated firms in the financial industry to comply with the ever-changing regulatory environment. The software helps my organization navigate rules and regulations, internal processes, and regulatory reporting requirements."
Senior Associate, Finance Organization with an annual return of $1-3BN