Digital Policy Management
Empowering policy teams daily.
Digital Policy Management on Connected Risk® enables you to achieve operational results fast. The solution provides a comprehensive breadth of agile, integrated, and smart policy management functionality.
Policies are critical to your business as they establish the boundaries of conduct for your employees, business processes, stakeholders, and suppliers. A well-defined policy management program is central to your organisation's ability to act with integrity.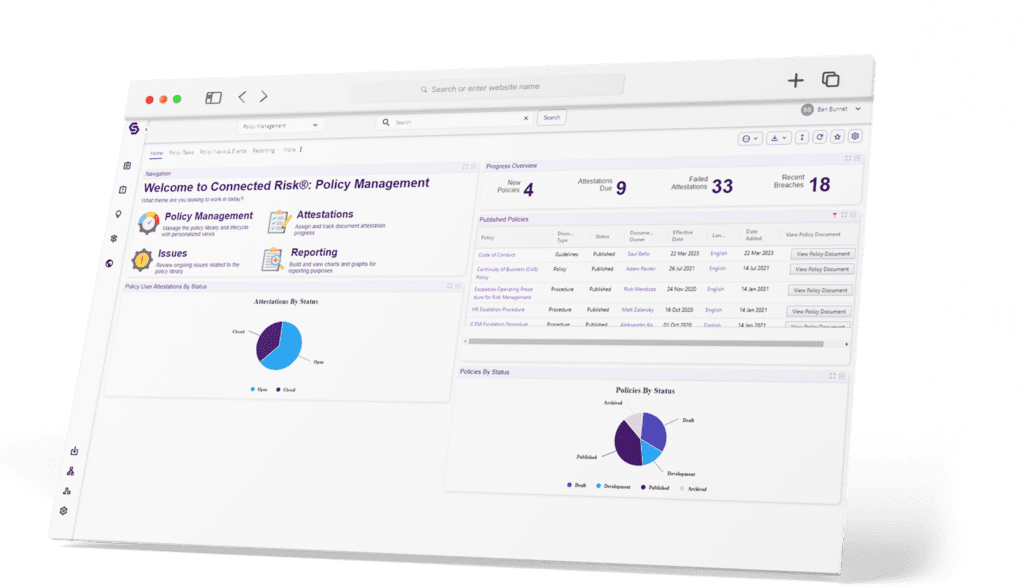 Many teams
lack
a coordinated enterprise-wide approach to policy lifecycle management
An ad hoc approach to policy development, maintenance, communication, attestation, and training exposes the organisation. This is especially so as nowadays every person involved with the business, including employees and third parties has a role to play. 
Your organisation must be able to demonstrate what policy was in effect, when and how it was communicated, who read it, was trained, and who attested to it. Equally important is a history of what exceptions were granted, and how violations and resolutions were managed.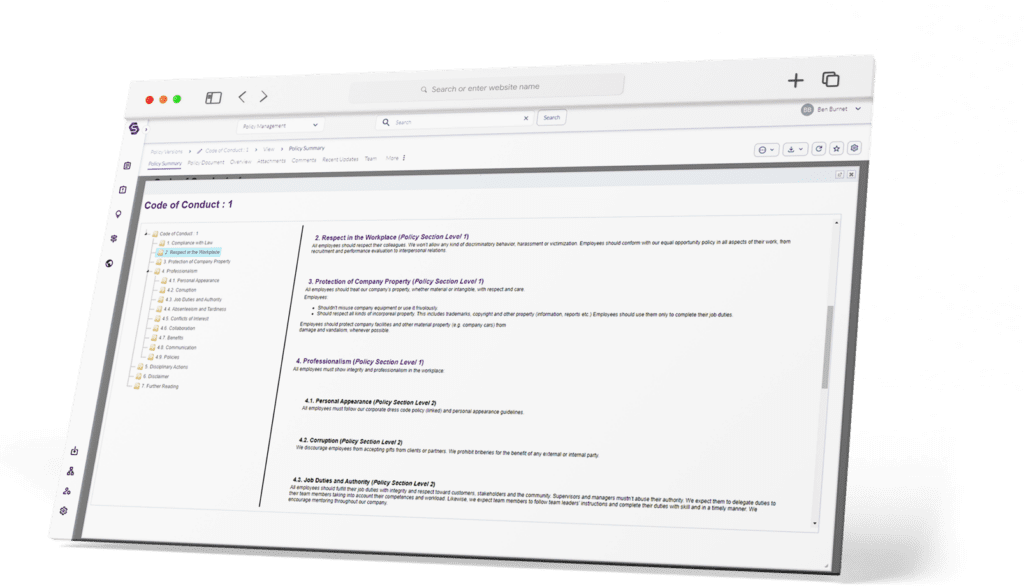 Unique to Connected Risk®'s digital policy management solution is
policy conversion
and enhanced tagging capabilities leveraging AI technology.
This industry leading solution leverages over a decade of innovation and tuning of Machine Learning (ML) and Natural Language Processing (NLP) algorithms to recognise, deconstruct and convert policy and regulatory content to a machine-readable format.
Empower
your policy management practices with features available right out of the box that are designed to digitally progress your team's compliance
Library
The policy library is the core of your Policy Management system. Policy content can even be managed at granular section level with the ability to link common policy sections across multiple policies, reducing authoring overhead and improving consistency. Policies can also be linked to multiple dimensions included lines of business, functions, legal entities. Importantly, polices can be linked and cross referenced to regulatory obligations, risks and controls and any other data and technologies as required.
Authoring
Connected Risk® policy authoring supports simultaneous authoring of policy content by multiple authors. Each policy can be managed as a hierarchy of individual policy sections and each section can be individually owned and mapped to policy taxonomies. Policy sections can also be shared across policies enabling authoring of common sections to be managed once and shared across many.
Publishing
After the completion of the policy authoring and approval process, the completed policy is prepared for publishing. The solution will combine the active policy sections into your preferred template format for final review and publishing. Policy managers are also able to determine activation and publication dates for the new policy. On the publication date, the policy will be made available within your Policy Portal and simultaneously published as the new or active version. 
Review
Connected Risk® supports regularly schedule and ad-hoc policy review workflows. This allows policy managers to schedule regularly recurring policy review cycles in which policies can be evaluated for currency with both internal and external obligations and updated as required.
Breaches
Connected Risk® policy manager enables policy breaches to be consolidated from multiple integrated sources across the organisation. Breaches can be linked to related policies and tracked by line of business or legal entity and effected obligations, to help identify areas where controls and policies may need to be enhanced to improve compliance.
Breaches
Sophisticated real-time reporting demonstrates what policy was in effect, when and how it was communicated, who read it, was trained and who attested to it. It provides a clear history of what exceptions were granted, and how violations and resolutions were managed, enabling you to advance with confidence. 
Connected Risk provides sophisticated integrated reporting which provides a comprehensive and advanced business intelligence reporting capability that allows your teams to build and embed visually appealing and interactive reports directly on their Connected Risk dashboards. 
Connected Risk® provides you with a single source of truth that provides infinite linkage capabilities, and in turn, increases data quality and knowledge sharing
Connected Risk® utilizes enhanced drag-and-drop and powerful data mapping capabilities for creating additional taxonomies and linkages into neighbouring risk areas.
The Policy Management module is highly configurable and can help your teams.
Manage your policies digitally.
Fill out the form to the right to be connected to one of our Solutions Experts that can assist you with standing up a proof of concept or even working within your parameters to get a demo started for your group today. 
Learn more about our Connected Risk® Digital Policy Management solution and how it can manage the entire GRC lifecycle within your business.
"*" indicates required fields
Learn more about policy management from Empowered Systems®
Policy
Risk management is of utmost importance for institutions across the globe. One crucial aspect of risk management that often goes overlooked is policy management. Policies
Expand
and integrate your solution with
"Powerful
Platform For Compliance With Dynamic Regulatory Environment"
"The product is a powerful platform for regulated firms in the financial industry to comply with the ever-changing regulatory environment. The software helps my organization navigate rules and regulations, internal processes, and regulatory reporting requirements."
Senior Associate, Finance Organization with an annual return of $1-3BN