ENTERPRISE RISK MANAGEMENT FOR CONNECTED RISK®
Enterprise risk management equips your organization with the tools needed to benefit from both risk and disruption.
It empowers decision makers and risk professionals alike – giving them confidence when accepting risk by ensuring that the data supporting their decisions is dependable and complete. This new attitude to risk is vital in an era that demands a faster response to new opportunities and potential threats. 
The acceleration of innovative technology, more data availability, and changing business models and value chains
are transforming
the ways you service your customers, interact with third parties, and operate internally.
Enterprise Risk Management, a solution on our Connected Risk® platform, provides an aggregated view of risk, data analytics to assess your risk and controls, and the ability to integrate disparate data sources to house all relevant information – helping achieve a risk mitigation strategy that suits your business objectives. Enterprise Risk Management works to leverage and integrate existing solutions that continue to add value to provide you with a holistic overview of the risk landscape.
Empower
your enterprise risk management practices with features designed to expand your Connected Risk® solution
Dynamic risk profile management
Flexible assessment engine
Superior Reporting
Confidence to say 'yes'
Dynamic risk profile management
With our solution, risk appetite can be defined and tracked at any point within your data structure. This provides a more dynamic view of risk, while monitoring and accommodating varying sensitivities to risk across functions and processes. Any breach of risk tolerance is reportable, with associated alerting. This, allied to powerful data mapping, allows for the creation of a tailored risk management solution to match the firm's exact methodology and ethos.
Flexible assessment engine
Superior Reporting
Confidence to say 'yes'
Watch a quick video on Enterprise Risk Management and its functionalities
In the past, risk professionals have had to accept that a solution could only manage a subset of enterprise risk management (ERM), for example, operational risk management (ORM), credit risk management or market risk management. 
With Connected Risk you receive advanced data mapping capabilities that enable multiple risk data streams to be combined with the solution to deliver a holistic view of risk, enabling your teams to:
Start a free trial of Connected Risk®'s enterprise risk management module and see how your organisation can advance with confidence
Start a free trial of
Connected Risk®
Fill out the form below to schedule a live, personalised demonstration of any of our solutions listed below.
"*" indicates required fields
Not quite ready for a trial?
Download a copy of our Enterprise Risk Management datasheet and see how our enterprise risk solutions can work for your organisation.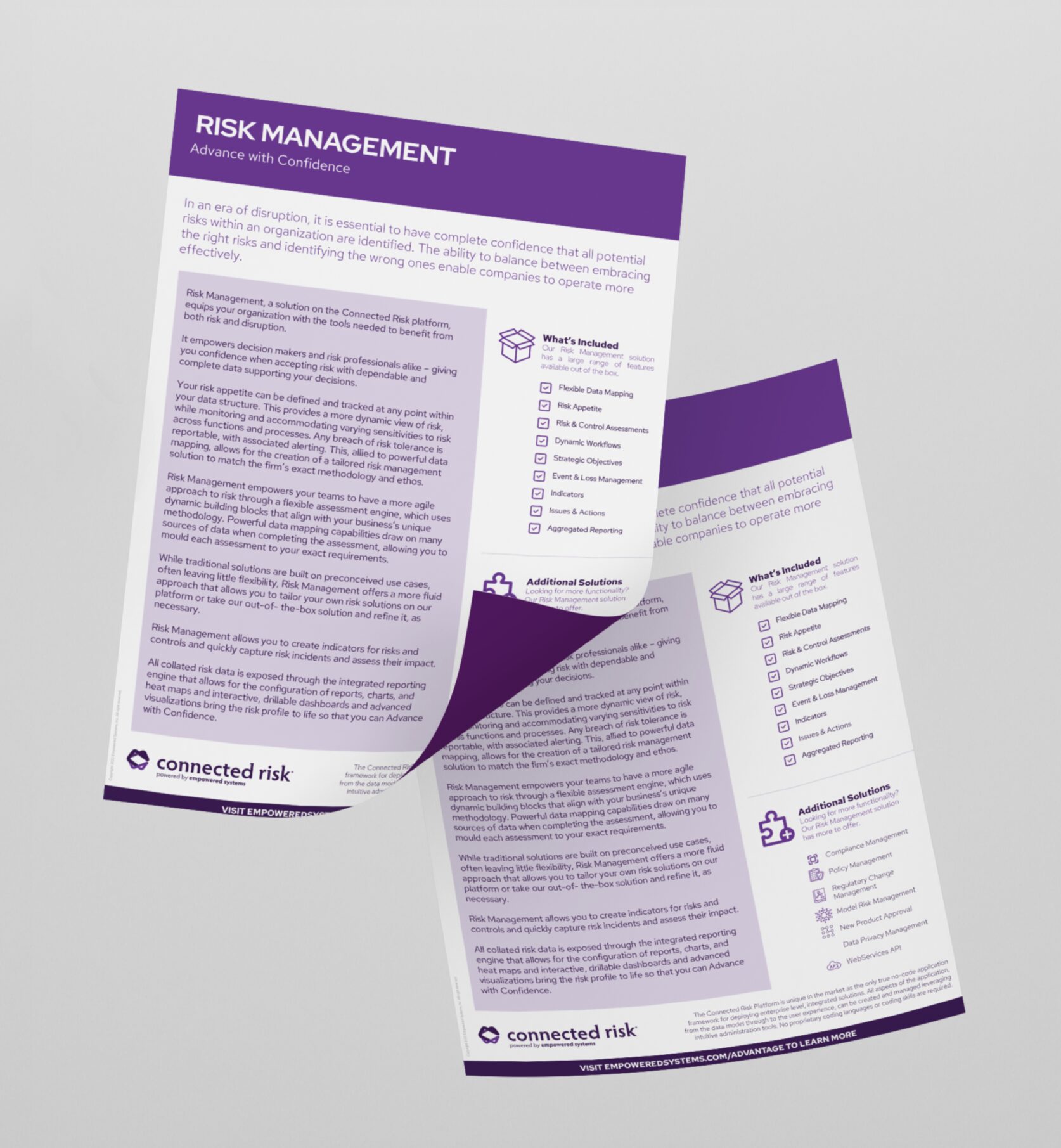 Share this page with your enterprise risk practice
Expand
and integrate your solution with
"Powerful
Platform For Compliance With Dynamic Regulatory Environment"
"The product is a powerful platform for regulated firms in the financial industry to comply with the ever-changing regulatory environment. The software helps my organization navigate rules and regulations, internal processes, and regulatory reporting requirements."
Senior Associate, Finance Organisation with an annual return of $1-3BN USD