AUDIT MANAGEMENT FOR CONNECTED RISK®
Audit management provides the nimble approach required to serve business leaders, operational management, audit committees, and regulators in these disruptive periods
Exponential business models, emerging markets, and an unpredictable political landscape have heightened the need for a more agile and opportunistic approach to audit.
We understand that the role you perform
continually evolves
as auditing adapts to heightened business disruption
Audit Management from Connected Risk® serves, supports, and sharpens your focus in challenging and opportunistic times. 
With our streamlined scope definition and collaborative electronic workpapers, your audit teams can maintain structure to their work, but with the freedom to apply creative thinking when presented with emerging risks, new business development, and other activities beyond routine processes. This is all on an open platform that allows secure distribution of your findings to maintain transparency and buy-in.
Empower
your audit management practices with features designed to expand your Connected Risk® solution
Flexible risk assessment capabilities
Agile audit planning
Streamlined audit execution and follow up
Report
Flexible risk assessment capabilities
At Empowered Systems we recognize that no two audit functions do annual risk assessments the same way, and that the businesses they serve are also unique. 
Audit Management offers an out-of-the-box solution that delivers a configurable approach to risk assessment methodology definitions and provides access to our proprietary advanced data modelling, mapping, and workflow developer.
The strength of this offering is proven with our largest Tier 1 clients using it to develop dedicated risk assessment solutions from the ground up, processing over 300 updates per day spanning 10,000 to 20,000 touch points.
Agile audit planning
Streamlined audit execution and follow up
Report
Your audit function is part of a
broader
risk ecosystem.
The Connected Risk platform, which underpins your solution, can draw upon this data using advanced data modelling and mapping capabilities that also facilitates a greater degree of standardization.
The solution maximizes the value these capabilities bring. We offer flexible assessment matrices that draw on data from any risk and compliance functions you choose to connect with. Based on the intelligence these connections provide, you can apply mid-cycle directional changes in your assessment plan to ensure it remains focused on what matters most at any given time.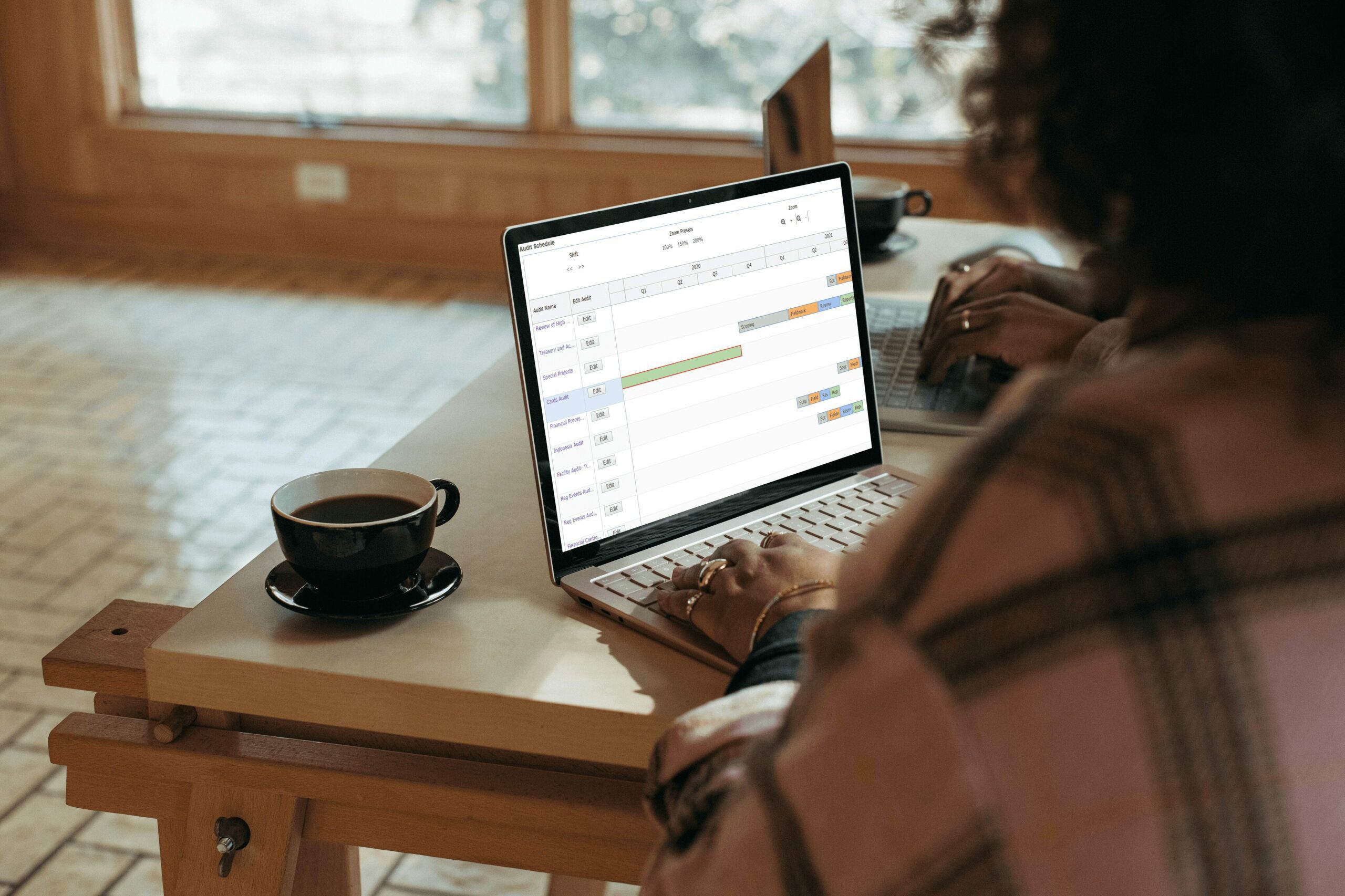 Start a free trial of Connected Risk®'s audit management module and see how your organisation can advance with confidence
Start a free trial of
Connected Risk®
Fill out the form below to schedule a live, personalised demonstration of any of our solutions listed below.
"*" indicates required fields
Not quite ready for a trial?
Download a copy of our Audit Management datasheet and see how our audit management solutions can work for your organisation.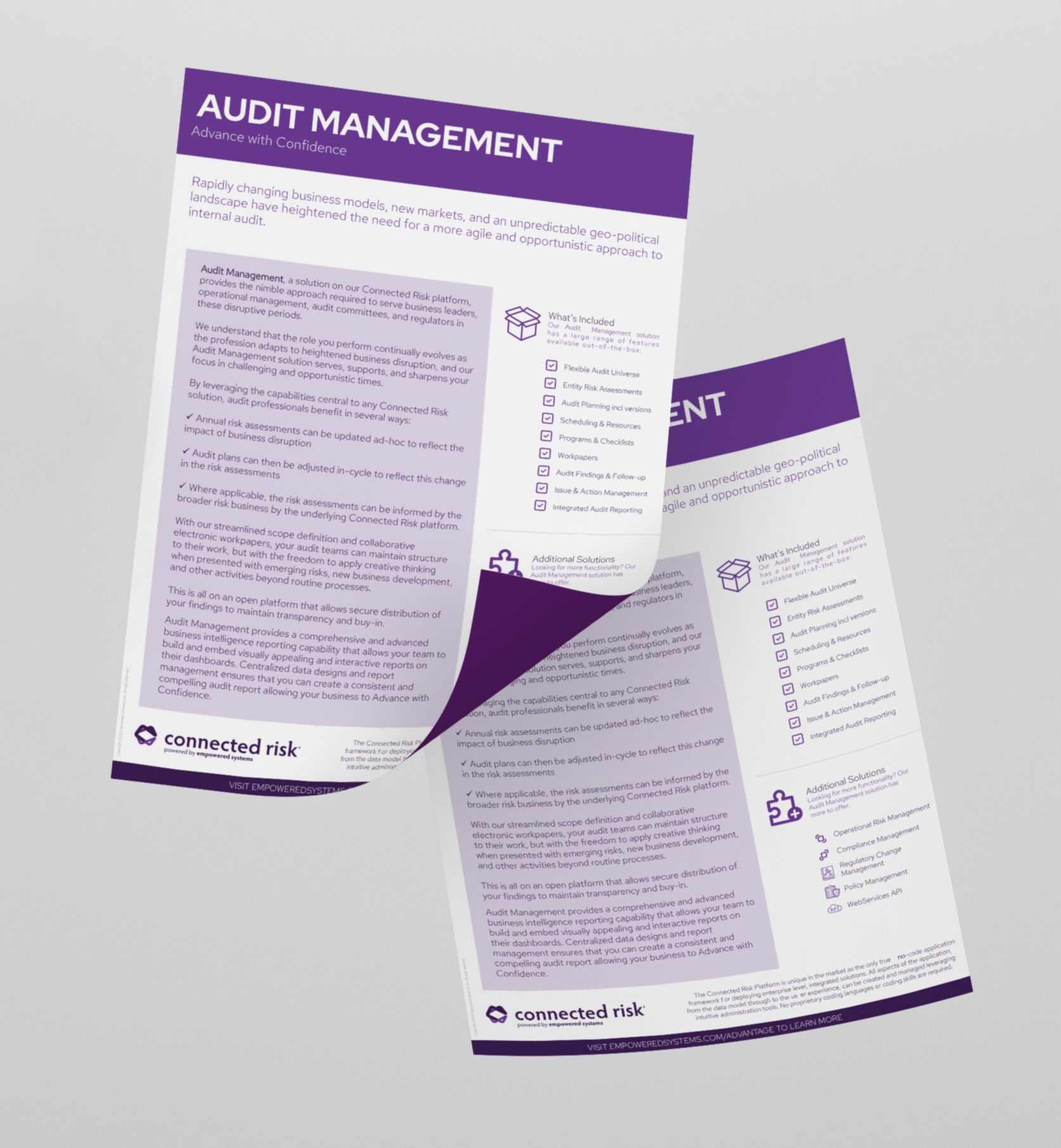 Share this page with your audit management practice
Expand
and integrate your audit management solution with
"Powerful
Platform For Compliance With Dynamic Regulatory Environment"
"The product is a powerful platform for regulated firms in the financial industry to comply with the ever-changing regulatory environment. The software helps my organization navigate rules and regulations, internal processes, and regulatory reporting requirements."
Senior Associate, Finance Organisation with an annual return of $1-3BN USD