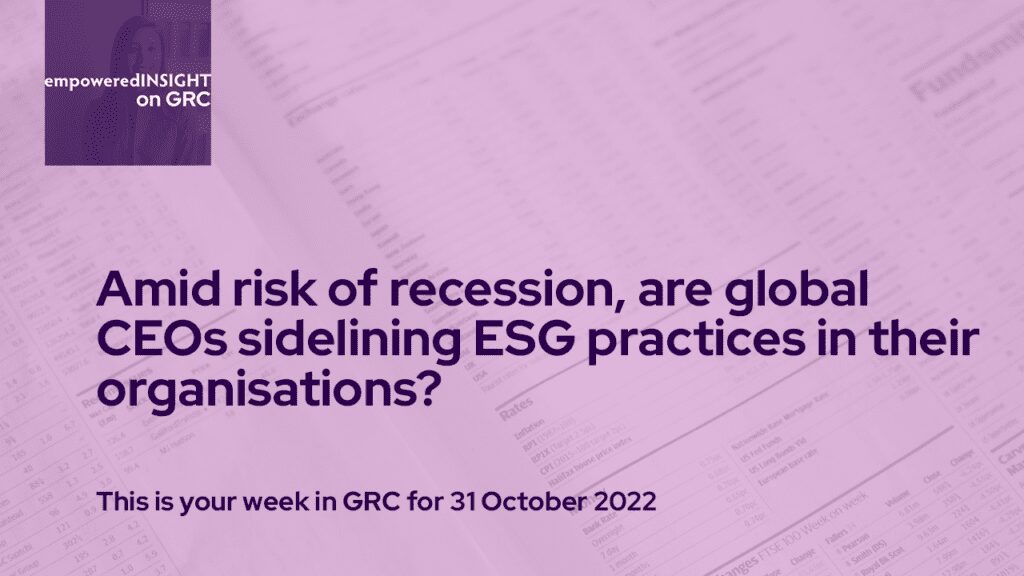 Amid risk of recession, are global CEOs sidelining ESG practices in their organisations?
That was one of the questions posed by KPMG to 1,325 chief executives in a survey conducted this summer, with the responses published this week in the 2022 edition of the firm's CEO Outlook report.
Of the professionals polled, 69% said they had seen a "significant" increase in demand for reporting on, and other transparency around, ESG issues in the past year. A similar proportion (72%) believe that stakeholder scrutiny of their organisation's ESG approach and reporting will increase in the coming year.
This is perhaps to be expected. Disclosure rules are entering force and tightening up in several key markets. In the UK, where edie is based, the world's first mandatory requirement for some large businesses to report climate risks in line with the Taskforce on Climate-related Disclosures' (TCFD) recommendations came into force in April, to give but one example. The mandate was extended to some large pension schemes within the past week.
The survey also revealed that chief executives perceive stakeholders to be more attuned to greenwashing. 17% of respondents said stakeholder scepticism of ESG-related claims has increased this year, compared with 8% of those interviewed for KPMG's 2021 CEO Outlook. This makes avoiding greenwashing the top concern among the chief executives in terms of communicating ESG progress.
Recession risk
Last month, the World Bank stated that the risk of a global recession being declared in 2023 had increased. 86% of those polled by KPMG agreed that a recession will occur within 12 months, with three-quarters anticipating disruption to their company's growth for three years.
With this in mind, the survey asked chief executives whether their organisations would be forced to cut back on ESG-related programmes in the coming 12 months.
Promisingly, 45% of those surveyed said that progress on ESG improves corporate financial performance, meaning that the logical approach in challenging economic times would be to lean in and increase ambitions and efforts here.
But financial constraints and a lack of in-house skills are preventing most of the chief executives from doing so. One-third (34%) said their company has already paused or reconsidered its programmes for the year ahead, with a further 50% saying that such a move will likely be taken within six months.
Programmes that are likely to go ahead include those relating to supply chain resilience. Half of those surveyed said their business will diversify supply chains in the next six months in response to geopolitical challenges, such as Russia's war in Ukraine and the continuing semiconductor shortage. Deeper monitoring of the supply chain was found to be the top strategy for solving supply chain issues.
KPMG's global chairman and chief executive, Bill Thomas, said: "The events of recent years have created real turbulence for the business community. Our findings should provide some cautious optimism that, in contending with and overcoming these ordeals, executives are more confident in their companies' resilience and are focused on mitigating some of the very real uncertainties we face today."
New ISSB baselines to be introduced in early 2023
The G20's Financial Stability Board (FSB) said standard-setters must work faster to avoid hardwiring differences between their finalized climate-related company disclosures, Reuters (paywall) reported. The International Sustainability Standards Board is working on a set of global baseline norms it plans to finalize by early 2023. The EU plans to finalize its own, more comprehensive set of disclosures for 50,000 companies by next month. The SEC has also proposed climate-related disclosure requirements.
Klaas Knot, the Dutch central bank president who chairs the FSB, said developing the disclosures provides an opportunity to avoid 'harmful fragmentation' of markets so that users can compare companies from across the world. 'Interoperability between the common global baseline and national and regional jurisdiction-specific requirements will be essential,' Knot said in a letter to G20 finance ministers.
New York State Department of Financial Services superintendent intends to bring state's leadership to federal regulatory agenda
The WSJ interviewed Adrienne Harris, superintendent of the New York State Department of Financial Services. The paper said Harris is looking to use the state's role as a financial services leader to help set the US federal regulatory agenda, with a particular focus on bringing order to the cryptocurrency industry. The department, which oversees insurance companies and state-chartered banks, has an outsize influence in financial services, with many other states following its lead on regulation and enforcement. Harris wants to bring that leadership role to other areas, such as crypto and climate change.
Is your organisation ready for the next generation of ESG regulations and requirements?
With the ever-changing landscape of ESG frameworks and emerging regulations, a rigid ESG approach will soon fall short of your changing regulatory obligations. A clear, auditable view of your organisation's ESG aspirations, activities and risk management is required to inform disclosures, regulatory compliance and stakeholder reporting.
EmpoweredESG® establishes your ESG vision through objectives directly mapped to framework disclosures, regulatory obligations, and internal policies, providing the flexibility to ensure full regulatory coverage, auditable evidence for informed ESG reporting and the ability to evolve with the maturing landscape.
Learn more at our upcoming informational webinar and product launch for our newest enterprise grade ESG solution on 16 November 2022 at 10:00 AM US EST / 3:00 PM UK GMT. Register here.