Managing data obligations with ease.
The Connected Risk® Privacy Compliance tool offers a cohesive system to oversee and track data privacy rules, including GDPR and CCPA. It enhances privacy measures by incorporating data from the Unified Compliance Framework (UCF). This allows firms to correlate 9,300+ IT control statements with 1,200+ regulations.
Connected Risk®'s compliance solution also facilitates processes for data protection evaluations, policy oversight, data privacy checks, third-party coordination, and problem resolution. User-friendly dashboards present immediate insights into privacy management activities. With this tool, you can reduce data breach risks and ensure private data is managed securely and in compliance, boosting organizational trust and sidestepping legal and reputation setbacks.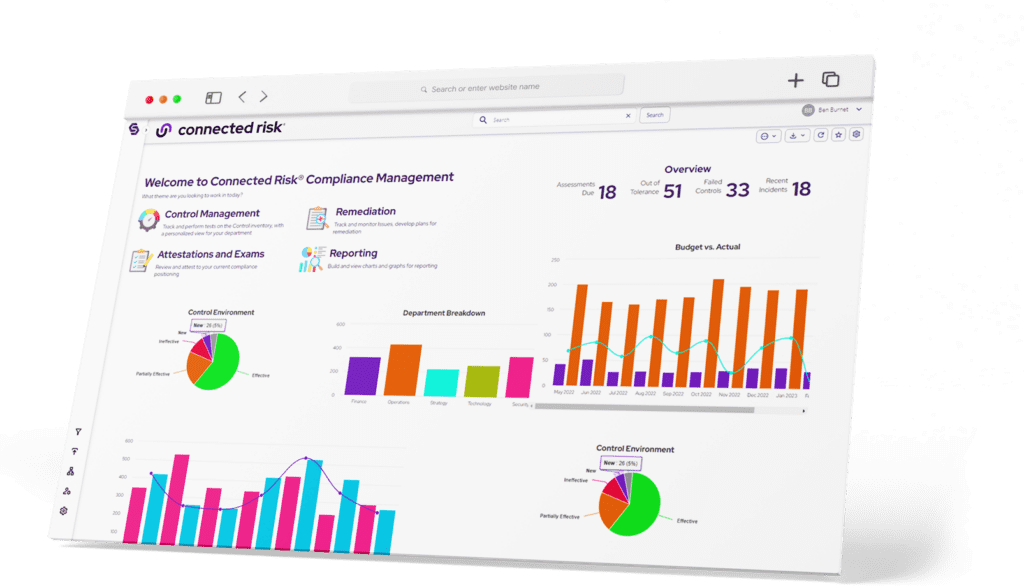 Advance your data privacy compliance
with confidence.
How Connected Risk® Privacy Compliance Benefits Your Risk Management Teams and Your Organization's Risk as a Whole
Make your data privacy team's life easier.
Fill out the form to the right to be connected to one of our Solutions Experts that can assist you with standing up a proof of concept or even working within your parameters to get a demo started for your group today. 
Learn more about our Connected Risk® Privacy Compliance solution and how it can manage the entire GRC lifecycle within your organization.
"*" indicates required fields
Connected Risk® provides you with a single source of truth that provides infinite linkage capabilities, and in turn, increases data quality and knowledge sharing.
In the past, risk professionals have had to accept that a solution could only manage a subset of enterprise risk management (ERM), for example, operational risk management (ORM), credit risk management or market risk management.
With Connected Risk® you receive advanced data mapping capabilities that enable multiple risk data streams to be combined with the solution to deliver a holistic view of risk, enabling your teams to:
Learn more about enterprise risk management from Empowered Systems®
Expand
and integrate your solution with
"Powerful
Platform For Compliance With Dynamic Regulatory Environment"
"The product is a powerful platform for regulated firms in the financial industry to comply with the ever-changing regulatory environment. The software helps my organization navigate rules and regulations, internal processes, and regulatory reporting requirements."
Senior Associate, Finance Organization with an annual return of $1-3BN USD